Sale price
₹ 400.00
Regular price
₹ 425.00
Unit price
per
Sale
Sold out
Out of stock
Secure Checkout

7 Days Delivery*

100% Genuine
Hexaconazole 5% SC Fungicide
Mode of Action: SYSTEMIC AND CONTACT FUNGICIDE
Description:
YUVVA belongs to triazole group of fungicide. It is highly systemic fungicide having protective and curative action.
It is useful for controlling Powdery mildews, Rusts and Leaf spots in cereals, Oil seeds, horticultural and plantation crops and also for the effective control of Rice Sheath blight. 
YUVVA is a trizole fungicide which has very good compatibility with strobulin fungicide and gives longer protection under continuous fungal attack.
Features and USP:
YUVVA is compatible with commonly used pesticides except with lime. sulphur, bordeaux mixture or a alkaline solutions.
It is highly cost effective fungicide for leaf spot diseases and can be applied near root zone. 
YUVVA molecule is effective till date and no resistance is reported against it.
It has low toxicity to mammals, fish, birds, and beneficial insects.
Recommendation of Hexaconazole 5% SC Fungicide -
| | | | |
| --- | --- | --- | --- |
| Crops | Pest | Dosage Per Acre | Waiting period (days) |
| | | Formulation (ml) | |
| Mango | Powdery Mildew | 2ml/ltr | 27 |
| Rice | Sheath Blight | 400 | 40 |
| Grapes | Powdery mildew | 200 - 400 | 14 |
Country of Origin:           India
Share
View full details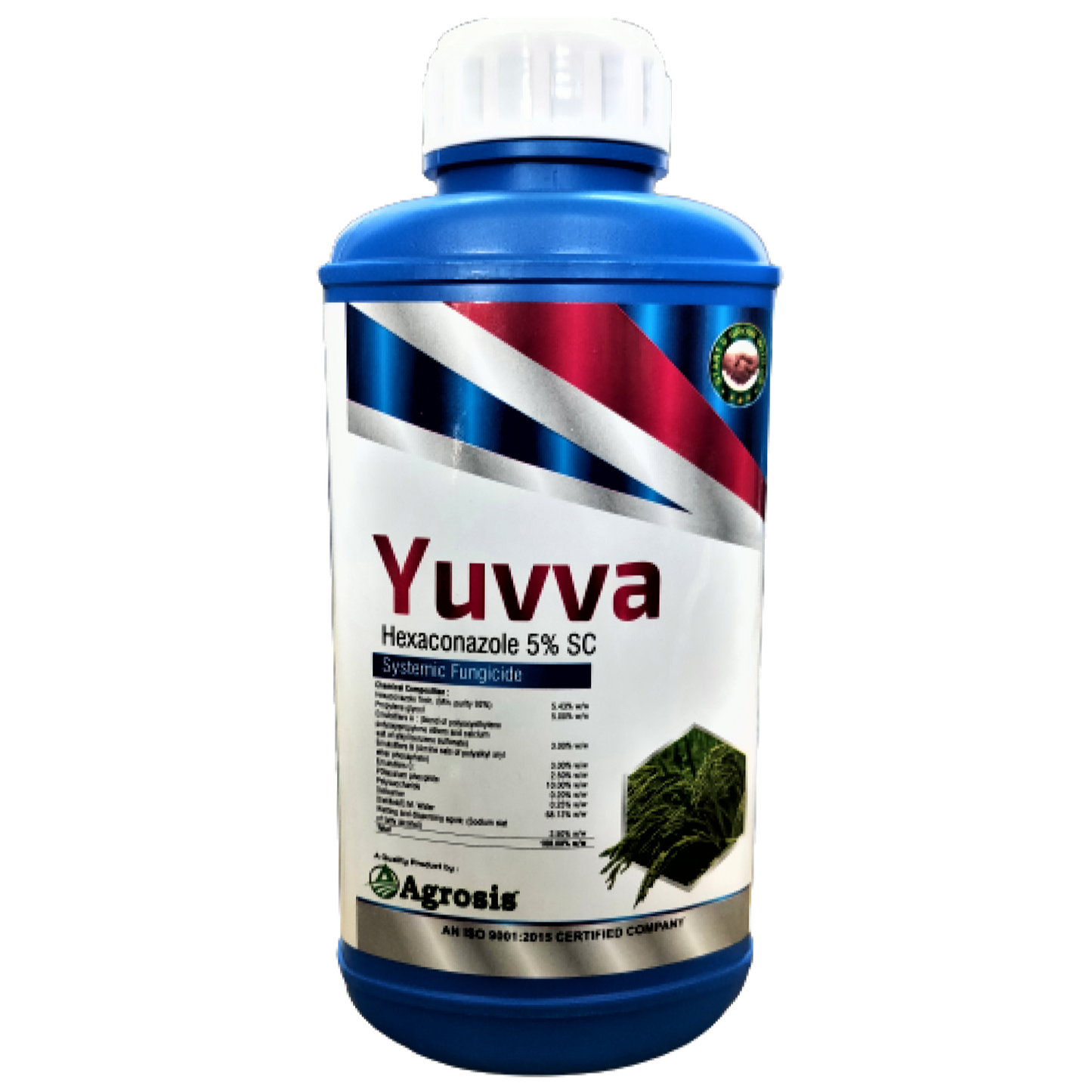 Best Sellers
Regular price

From ₹ 229.00

Sale price

From ₹ 229.00

Regular price

₹ 700.00

Unit price

per

Regular price

From ₹ 785.00

Sale price

From ₹ 785.00

Regular price

₹ 2,050.00

Unit price

per

Regular price

From ₹ 165.00

Sale price

From ₹ 165.00

Regular price

₹ 210.00

Unit price

per

Regular price

From ₹ 266.00

Sale price

From ₹ 266.00

Regular price

₹ 308.00

Unit price

per

Regular price

From ₹ 189.00

Sale price

From ₹ 189.00

Regular price

₹ 300.00

Unit price

per

Regular price

From ₹ 685.00

Sale price

From ₹ 685.00

Regular price

₹ 1,540.00

Unit price

per

Regular price

From ₹ 1,190.00

Sale price

From ₹ 1,190.00

Regular price

₹ 2,200.00

Unit price

per

Regular price

From ₹ 389.00

Sale price

From ₹ 389.00

Regular price

₹ 910.00

Unit price

per

Regular price

From ₹ 199.00

Sale price

From ₹ 199.00

Regular price

₹ 495.00

Unit price

per

Regular price

From ₹ 269.00

Sale price

From ₹ 269.00

Regular price

₹ 310.00

Unit price

per

Regular price

From ₹ 215.00

Sale price

From ₹ 215.00

Regular price

₹ 216.00

Unit price

per

Regular price

From ₹ 299.00

Sale price

From ₹ 299.00

Regular price

₹ 855.00

Unit price

per

Regular price

From ₹ 458.00

Sale price

From ₹ 458.00

Regular price

₹ 945.00

Unit price

per

Regular price

From ₹ 295.00

Sale price

From ₹ 295.00

Regular price

₹ 390.00

Unit price

per

Regular price

From ₹ 269.00

Sale price

From ₹ 269.00

Regular price

₹ 595.00

Unit price

per

Regular price

From ₹ 622.00

Sale price

From ₹ 622.00

Regular price

₹ 1,155.00

Unit price

per

Regular price

From ₹ 176.00

Sale price

From ₹ 176.00

Regular price

₹ 350.00

Unit price

per

Regular price

From ₹ 249.00

Sale price

From ₹ 249.00

Regular price

₹ 250.00

Unit price

per

Regular price

From ₹ 349.00

Sale price

From ₹ 349.00

Regular price

₹ 480.00

Unit price

per
good product and value for money, used on grapes and got good results, plants are free from fungus now