Sale price
₹ 290.00
Regular price
₹ 910.00
Unit price
per
Sale
Sold out
20 in stock
Secure Checkout

7 Days Delivery*

100% Genuine
Emamectin Benzoate 1.5% + Fipronil 3.5% SC Insecticide
Features -
Emap  is a broad spectrum insecticide which controls both caterpillars and thrips simultaneously.
It  is a product of natural origin and chemical combination therefore it is very effective against lepidopteran and thrips.
Emap has ovilarvicidal activity therefore kills the larvae immediately after hatching which ensures no further loss to the crop.
It  also has phytotonic action which results in healthy crop and better yield.
Recommendation of Emamectin Benzoate 1.5% + Fipronil 3.5% SC Insecticide -
| | | |
| --- | --- | --- |
| Crop | Common name of pest | Dose(ml/acre) |
| Chilli | Thrips & Fruit borer | 200-250ml |
Country of Origin - India 
Share
View full details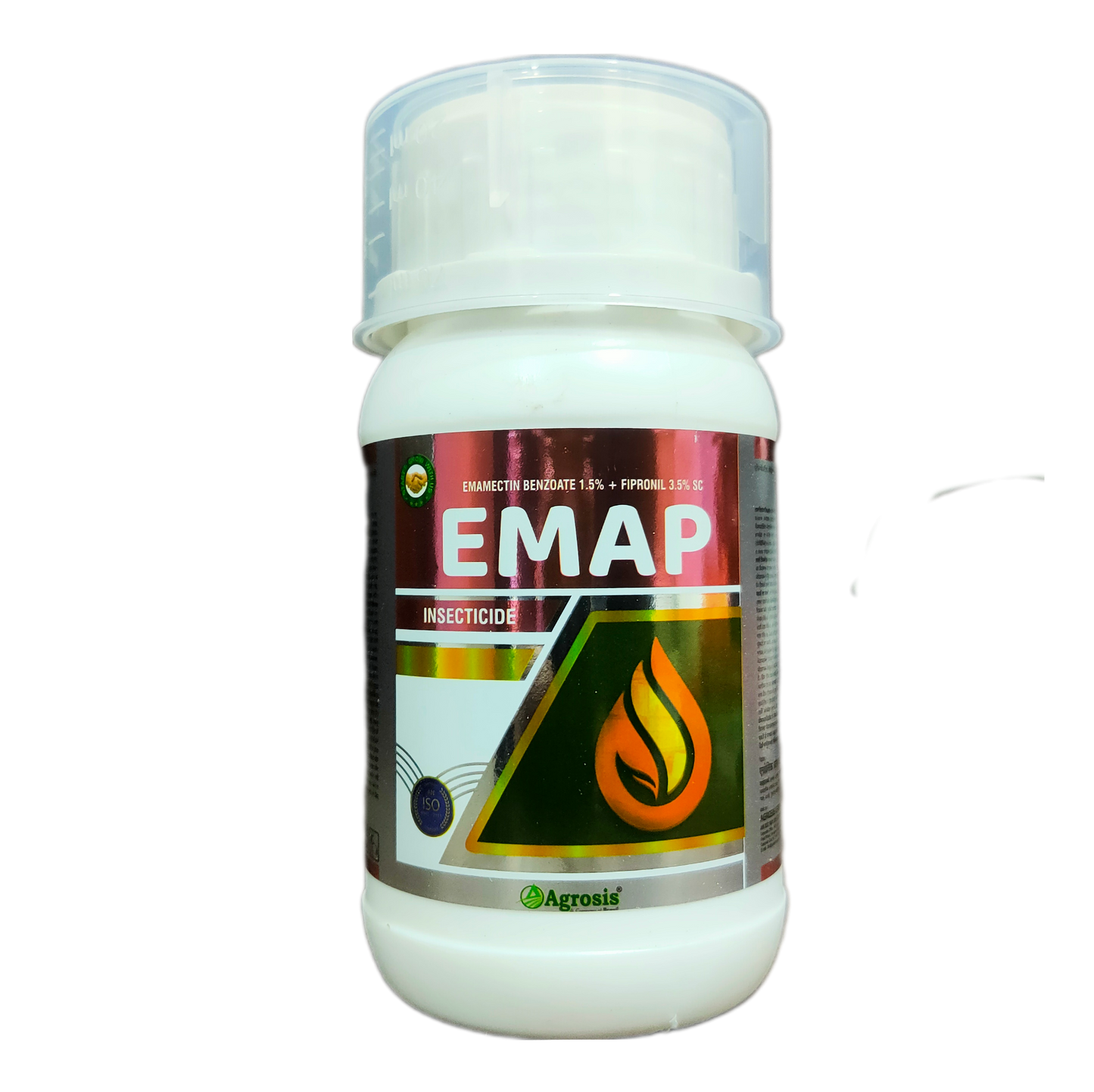 Best Sellers
Regular price

From ₹ 229.00

Sale price

From ₹ 229.00

Regular price

₹ 700.00

Unit price

per

Regular price

From ₹ 785.00

Sale price

From ₹ 785.00

Regular price

₹ 2,050.00

Unit price

per

Regular price

From ₹ 165.00

Sale price

From ₹ 165.00

Regular price

₹ 210.00

Unit price

per

Regular price

From ₹ 266.00

Sale price

From ₹ 266.00

Regular price

₹ 308.00

Unit price

per

Regular price

From ₹ 189.00

Sale price

From ₹ 189.00

Regular price

₹ 300.00

Unit price

per

Regular price

From ₹ 685.00

Sale price

From ₹ 685.00

Regular price

₹ 1,540.00

Unit price

per

Regular price

From ₹ 1,190.00

Sale price

From ₹ 1,190.00

Regular price

₹ 2,200.00

Unit price

per

Regular price

From ₹ 389.00

Sale price

From ₹ 389.00

Regular price

₹ 910.00

Unit price

per

Regular price

From ₹ 199.00

Sale price

From ₹ 199.00

Regular price

₹ 495.00

Unit price

per

Regular price

From ₹ 269.00

Sale price

From ₹ 269.00

Regular price

₹ 310.00

Unit price

per

Regular price

From ₹ 215.00

Sale price

From ₹ 215.00

Regular price

₹ 216.00

Unit price

per

Regular price

From ₹ 299.00

Sale price

From ₹ 299.00

Regular price

₹ 855.00

Unit price

per

Regular price

From ₹ 458.00

Sale price

From ₹ 458.00

Regular price

₹ 945.00

Unit price

per

Regular price

From ₹ 295.00

Sale price

From ₹ 295.00

Regular price

₹ 390.00

Unit price

per

Regular price

From ₹ 269.00

Sale price

From ₹ 269.00

Regular price

₹ 595.00

Unit price

per

Regular price

From ₹ 622.00

Sale price

From ₹ 622.00

Regular price

₹ 1,155.00

Unit price

per

Regular price

From ₹ 176.00

Sale price

From ₹ 176.00

Regular price

₹ 350.00

Unit price

per

Regular price

From ₹ 249.00

Sale price

From ₹ 249.00

Regular price

₹ 250.00

Unit price

per

Regular price

From ₹ 349.00

Sale price

From ₹ 349.00

Regular price

₹ 480.00

Unit price

per