Sale price
₹ 495.00
Regular price
₹ 495.00
Unit price
per
Sale
Sold out
Out of stock
Secure Checkout

7 Days Delivery*

100% Genuine
Ziram 27% SC Contact Fungicide
1. It is a colloidal suspension containing 27% Ziram active ingredient by mass and balance adjuvants.
2. It is recommended for use on Grape, Apple, Bean, Potato, Tomato.
3. It is repellent to birds and rodents.
4. It possesses fungicidal control over pome fruits, stone fruit, nuts, vines, vegetables and ornamentals.
Mode of action of Ziram 27% SC Contact Fungicide
Ziram is a basic contact, foliar fungicide with protective action.
Recommendations
Crop
Common name of the Pest
Dose/acre(ml)
Dilution in
Water (Liter)
Waiting

 

Period(Days)

(days)

Grape
Downy mildew, Anthracnose
920-1400
300-400



Apple
Scab
920-1400
300-400

21
Bean
Anthracnose
920-1400
300-400

4
Potato
Early blight
920-1400
300-400
3
Tomato
Early blight
920-1400
300-400
3
Share
View full details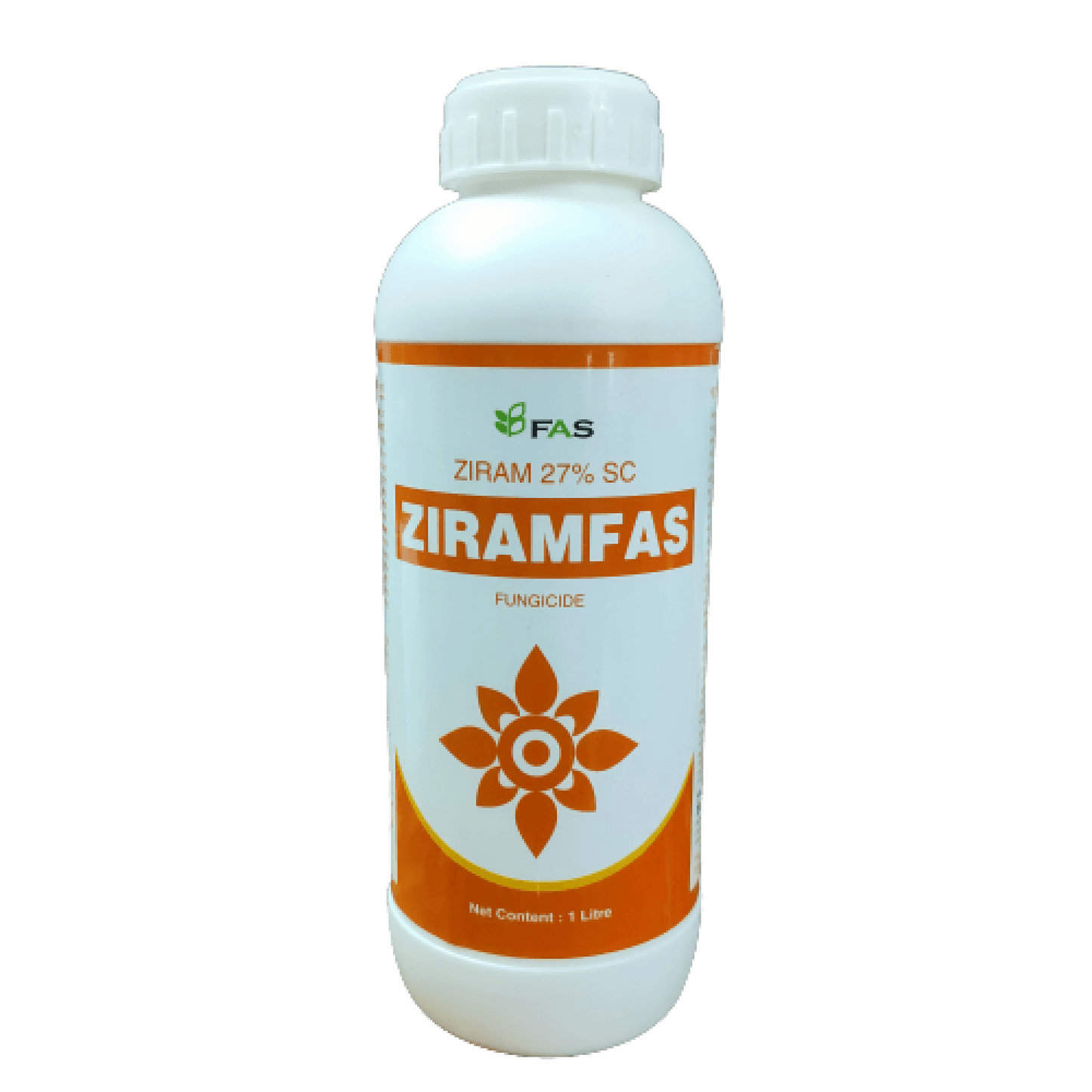 Best Sellers
Regular price

From ₹ 229.00

Sale price

From ₹ 229.00

Regular price

₹ 700.00

Unit price

per

Regular price

From ₹ 785.00

Sale price

From ₹ 785.00

Regular price

₹ 2,050.00

Unit price

per

Regular price

From ₹ 165.00

Sale price

From ₹ 165.00

Regular price

₹ 210.00

Unit price

per

Regular price

From ₹ 266.00

Sale price

From ₹ 266.00

Regular price

₹ 308.00

Unit price

per

Regular price

From ₹ 189.00

Sale price

From ₹ 189.00

Regular price

₹ 300.00

Unit price

per

Regular price

From ₹ 685.00

Sale price

From ₹ 685.00

Regular price

₹ 1,540.00

Unit price

per

Regular price

From ₹ 1,190.00

Sale price

From ₹ 1,190.00

Regular price

₹ 2,200.00

Unit price

per

Regular price

From ₹ 389.00

Sale price

From ₹ 389.00

Regular price

₹ 910.00

Unit price

per

Regular price

From ₹ 199.00

Sale price

From ₹ 199.00

Regular price

₹ 495.00

Unit price

per

Regular price

From ₹ 269.00

Sale price

From ₹ 269.00

Regular price

₹ 310.00

Unit price

per

Regular price

From ₹ 215.00

Sale price

From ₹ 215.00

Regular price

₹ 216.00

Unit price

per

Regular price

From ₹ 299.00

Sale price

From ₹ 299.00

Regular price

₹ 855.00

Unit price

per

Regular price

From ₹ 458.00

Sale price

From ₹ 458.00

Regular price

₹ 945.00

Unit price

per

Regular price

From ₹ 295.00

Sale price

From ₹ 295.00

Regular price

₹ 390.00

Unit price

per

Regular price

From ₹ 269.00

Sale price

From ₹ 269.00

Regular price

₹ 595.00

Unit price

per

Regular price

From ₹ 622.00

Sale price

From ₹ 622.00

Regular price

₹ 1,155.00

Unit price

per

Regular price

From ₹ 176.00

Sale price

From ₹ 176.00

Regular price

₹ 350.00

Unit price

per

Regular price

From ₹ 249.00

Sale price

From ₹ 249.00

Regular price

₹ 250.00

Unit price

per

Regular price

From ₹ 349.00

Sale price

From ₹ 349.00

Regular price

₹ 480.00

Unit price

per