Sale price
₹ 199.00
Regular price
₹ 330.00
Unit price
per
Sale
Sold out
Low stock: 2 left
Secure Checkout

7 Days Delivery*

100% Genuine
Thiamethoxam 25% WG Insecticide
It is a unique systemic insecticide that provides excellent, fast-acting and long-lasting elimination of a broad range of foliar and soil pests. 
Its benefits go beyond insect control as its unique chemical properties consistently helps growers to maximize crop potential through healthier and more vigorous plants, better quality of harvested fruits and grains with higher yields.
For growers it is the best choice for flexible crop protection with a range of application methods from conventional foliar sprays and soil application, to more sophisticated systems such as drench and drip irrigation. It can be used in both humid tropics and temperate climates.
Recommenced for its use to control Stem Borer, Galli Midge, Leaf Folder, Brown Plant Hopper, white Blacked Plant Hopper. Green Leaf hopper and thrips in rice: jassids, aphids, whitefly in cotton; hoppers in mango ; aphid in wheat; aphids , jassids and Whiteflies in okra; aphids in Mustard; Whiteflies in Tomato; Whiteflies Jassids in Bringal; mosquito bug in Tea, aphids in Potato and psylla in citrus 
Mode of Action Thiamethoxam 25% WG Insecticide :
Neonicotinoids act on a specific protein in the brain of pest insects (the nicotinic acetylcholine receptor), inhibiting their feeding reflex.
During food intake, healthy aphids stay nearly motionless on the leaf. After uptake of Thiamethoxam, the sucking insect stops feeding and even if death is delayed for 24 hours, the effects are comparable to knock-down compounds, since the feeding stop is irreversible. Affected sucking insects do not penetrate the plant tissue again.
Foliar application:
IT exhibits excellent trans-stemic (translaminar & systemic) movement in the plant tissue. It quickly penetrates the leaf to form a reservoir of active ingredient which results in extended residual control.
Soil Application:
When It is applied to the soil, it is readily taken up by the roots of germinating seedlings or transplants and is rapidly translocated throughout the plant. Once inside the plant, thiamethoxam is slowly metabolized, resulting in extended residual control.
Main Benefits of Using IT:
IT is highly effective at low use-rates against a broad spectrum of sucking, soil and leaf-dwelling pests.
Etios is highly systemic and well suited for application as a foliar spray, drench or drip irrigation.
IT is characterized by its rapid uptake and is fast-acting regardless of dry or wet conditions ensuring high performance levels.
Recommended Crops

Recommended Pests

Dosage Per Acre

Waiting period (days)

Formulation

(g)

Dilution in water

(Litres)

Rice

Stem borer, Gall midge, Leaf folder, BPH, WBPH, GLH & Thrips

40

200-300

14

Rice (Nursery)

Whorl Maggot

800

100 ml/g

86

Mango

Hoppers

40

400

30

Potato

Aphids

40 (foliar spray)

200

77

Potato

Aphids

80 (soil drenching)

160 - 200

 

Cotton

Jassids & Aphids

40

200-300

21

Cotton

White fly

80

200-300

21

Wheat

Aphids

20

200

21

Cumin

Aphids

40

200

15

Tomato

White fly

80 (foliar spray) 160 (soil drenching)

200

5

Citrus

Psylla

40

400

20

Brinjal

White fly & Jassids

80

200

3

Okra

Jassids, Aphids, White fly

40

200-400

5

Mustard

Aphids

20-40

200-400

21
Country of origin: India 
Share
View full details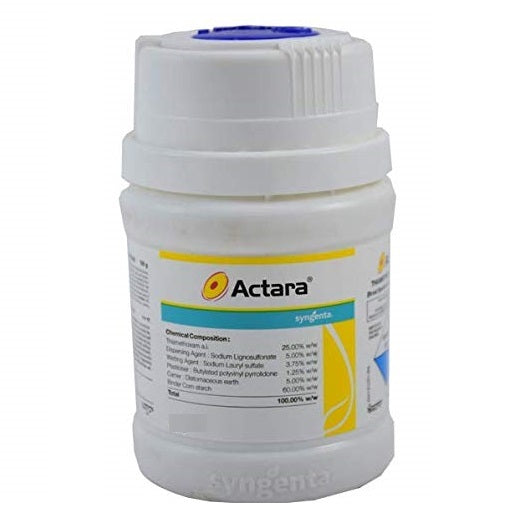 Best Sellers
Regular price

From ₹ 229.00

Sale price

From ₹ 229.00

Regular price

₹ 700.00

Unit price

per

Regular price

From ₹ 785.00

Sale price

From ₹ 785.00

Regular price

₹ 2,050.00

Unit price

per

Regular price

From ₹ 165.00

Sale price

From ₹ 165.00

Regular price

₹ 210.00

Unit price

per

Regular price

From ₹ 266.00

Sale price

From ₹ 266.00

Regular price

₹ 308.00

Unit price

per

Regular price

From ₹ 189.00

Sale price

From ₹ 189.00

Regular price

₹ 300.00

Unit price

per

Regular price

From ₹ 685.00

Sale price

From ₹ 685.00

Regular price

₹ 1,540.00

Unit price

per

Regular price

From ₹ 1,190.00

Sale price

From ₹ 1,190.00

Regular price

₹ 2,200.00

Unit price

per

Regular price

From ₹ 389.00

Sale price

From ₹ 389.00

Regular price

₹ 910.00

Unit price

per

Regular price

From ₹ 199.00

Sale price

From ₹ 199.00

Regular price

₹ 495.00

Unit price

per

Regular price

From ₹ 269.00

Sale price

From ₹ 269.00

Regular price

₹ 310.00

Unit price

per

Regular price

From ₹ 215.00

Sale price

From ₹ 215.00

Regular price

₹ 216.00

Unit price

per

Regular price

From ₹ 299.00

Sale price

From ₹ 299.00

Regular price

₹ 855.00

Unit price

per

Regular price

From ₹ 458.00

Sale price

From ₹ 458.00

Regular price

₹ 945.00

Unit price

per

Regular price

From ₹ 295.00

Sale price

From ₹ 295.00

Regular price

₹ 390.00

Unit price

per

Regular price

From ₹ 269.00

Sale price

From ₹ 269.00

Regular price

₹ 595.00

Unit price

per

Regular price

From ₹ 622.00

Sale price

From ₹ 622.00

Regular price

₹ 1,155.00

Unit price

per

Regular price

From ₹ 176.00

Sale price

From ₹ 176.00

Regular price

₹ 350.00

Unit price

per

Regular price

From ₹ 249.00

Sale price

From ₹ 249.00

Regular price

₹ 250.00

Unit price

per

Regular price

From ₹ 349.00

Sale price

From ₹ 349.00

Regular price

₹ 480.00

Unit price

per