Sale price
₹ 599.00
Regular price
₹ 765.00
Unit price
per
Sale
Sold out
Out of stock
Secure Checkout

7 Days Delivery*

100% Genuine
Zinc 33% Fertilizer
Zinc Sulphate 33% + Sulphur 15% Min.
Benefits:
Zinc is one among the few important micronutrient elements that is indispensable for plant growth.
It presence activates a series of enzymes responsible for maintaining the course and tempo of several vital growth events.
Zinc asserts in protein synthesis and production of auxins (growth promoting chemicals.)
Zinc plays a key role in plants as a structural constituent or regularly co- factor of a wide range of different enzymes in many important biochemical pathways and there are mainly concerned with carbohydrate metabolism, both in photosynthesis and in the conversion of sugars to starch, protein, metabolism, auxin (growth regulator) metabolism, pollen formation, the maintenance of the integrity of biological membranes and the resistance of infection by certain pathogens.
The best practice is to broad cast and incorporate Zinc-33 as a pre plant/sowing application.
Application Method of Zinc 33% Fertilizer :
Soil treatment - apply before last ploughing at the rate 5 to 10kg/acre. It can be mixed with dry sand.

Foliar spray - apply 500 gm. to 1kg. of Zinc-33 and dilute in 200 ltr. water and spray on one acre crop at the rate of interval of 15 days.


Keep out from the reach of children. Store in a cool, dry place away from sunlight.
For agricultural use only.
Country of Origin - India
Share
View full details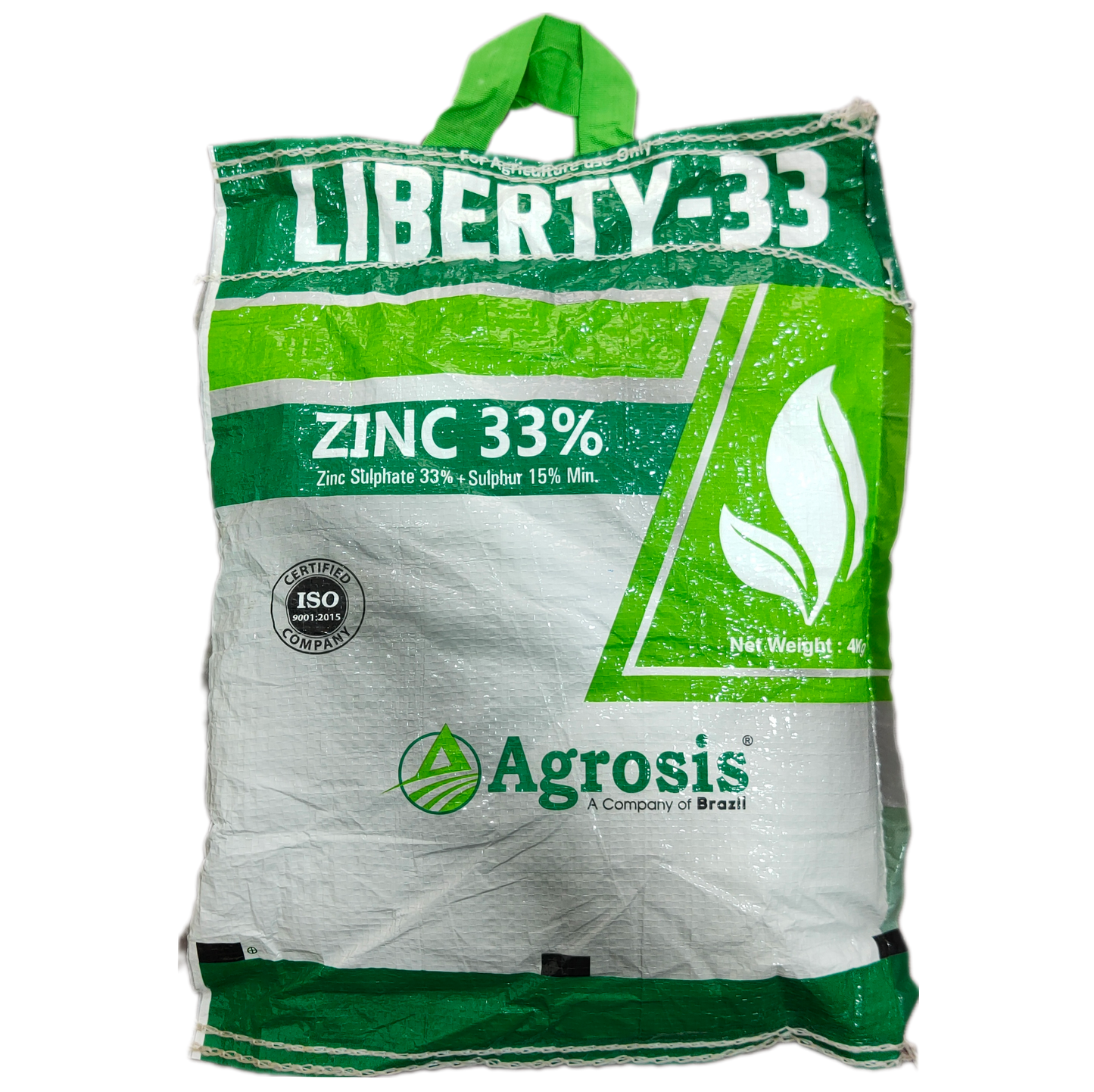 Best Sellers
Regular price

From ₹ 229.00

Sale price

From ₹ 229.00

Regular price

₹ 700.00

Unit price

per

Regular price

From ₹ 785.00

Sale price

From ₹ 785.00

Regular price

₹ 2,050.00

Unit price

per

Regular price

From ₹ 165.00

Sale price

From ₹ 165.00

Regular price

₹ 210.00

Unit price

per

Regular price

From ₹ 266.00

Sale price

From ₹ 266.00

Regular price

₹ 308.00

Unit price

per

Regular price

From ₹ 189.00

Sale price

From ₹ 189.00

Regular price

₹ 300.00

Unit price

per

Regular price

From ₹ 685.00

Sale price

From ₹ 685.00

Regular price

₹ 1,540.00

Unit price

per

Regular price

From ₹ 1,190.00

Sale price

From ₹ 1,190.00

Regular price

₹ 2,200.00

Unit price

per

Regular price

From ₹ 389.00

Sale price

From ₹ 389.00

Regular price

₹ 910.00

Unit price

per

Regular price

From ₹ 199.00

Sale price

From ₹ 199.00

Regular price

₹ 495.00

Unit price

per

Regular price

From ₹ 269.00

Sale price

From ₹ 269.00

Regular price

₹ 310.00

Unit price

per

Regular price

From ₹ 215.00

Sale price

From ₹ 215.00

Regular price

₹ 216.00

Unit price

per

Regular price

From ₹ 299.00

Sale price

From ₹ 299.00

Regular price

₹ 855.00

Unit price

per

Regular price

From ₹ 458.00

Sale price

From ₹ 458.00

Regular price

₹ 945.00

Unit price

per

Regular price

From ₹ 295.00

Sale price

From ₹ 295.00

Regular price

₹ 390.00

Unit price

per

Regular price

From ₹ 269.00

Sale price

From ₹ 269.00

Regular price

₹ 595.00

Unit price

per

Regular price

From ₹ 622.00

Sale price

From ₹ 622.00

Regular price

₹ 1,155.00

Unit price

per

Regular price

From ₹ 176.00

Sale price

From ₹ 176.00

Regular price

₹ 350.00

Unit price

per

Regular price

From ₹ 249.00

Sale price

From ₹ 249.00

Regular price

₹ 250.00

Unit price

per

Regular price

From ₹ 349.00

Sale price

From ₹ 349.00

Regular price

₹ 480.00

Unit price

per