Sale price
₹ 349.00
Regular price
₹ 480.00
Unit price
per
Sale
Sold out
Low stock: 1 left
Secure Checkout

7 Days Delivery*

100% Genuine
Triacontanol 0.1% EW
Energy is a Triacontanol-based plant growth promoter for foliar application to improve crop yield.
Mode of Action:
Improves permeability of cell wall.
Triggers Photosynthetic activity by retention of carbon dioxide in cells.
Increased enzymatic activity and anti-oxidant compounds.
Benefits:
Promotes chlorophyll synthesis, imparting green colour to plant.
Enhanced photosynthesis and absorption of nutrients.
Absorption & translocation of more nutrients and solutes by cell walls.
Improved branching and increased leaf area.
Leads to more starch production, increased plant mass, giving high yield.
Increase in quantitative and qualitative produce.
Recommended use of Triacontanol 0.1% EW -
Crop(s)

Dose/HA

Dilution in water (Lts.)

Waiting period (in Days)

Cotton

250ml

400-500

1st spray -45 days after planting. 2nd spray-65 days after planting. 3rd spray- 85 days after

planting

Tomato

250ml


400-500

1st spray-25 days after planting. 2nd spray – 45 days after planting, 3rd spray 65 days after

planting

Rice

250ml


400-500

1st spray – 25 days after planting, 2nd spray – 45 days after planting. 3 rd spray 65 days after

planting

Chillies

250ml


400-500

1st spray – 25 days after planting, 2nd spray – 45 days, after planting, 3rd spray- 65 days after

planting.

Groundnut

250ml


400-500

1st spray – 25 days after planting, 2nd spray – 45 days after planting 3rd spray – 65 days

after planting
Country of Origin - India
Share
View full details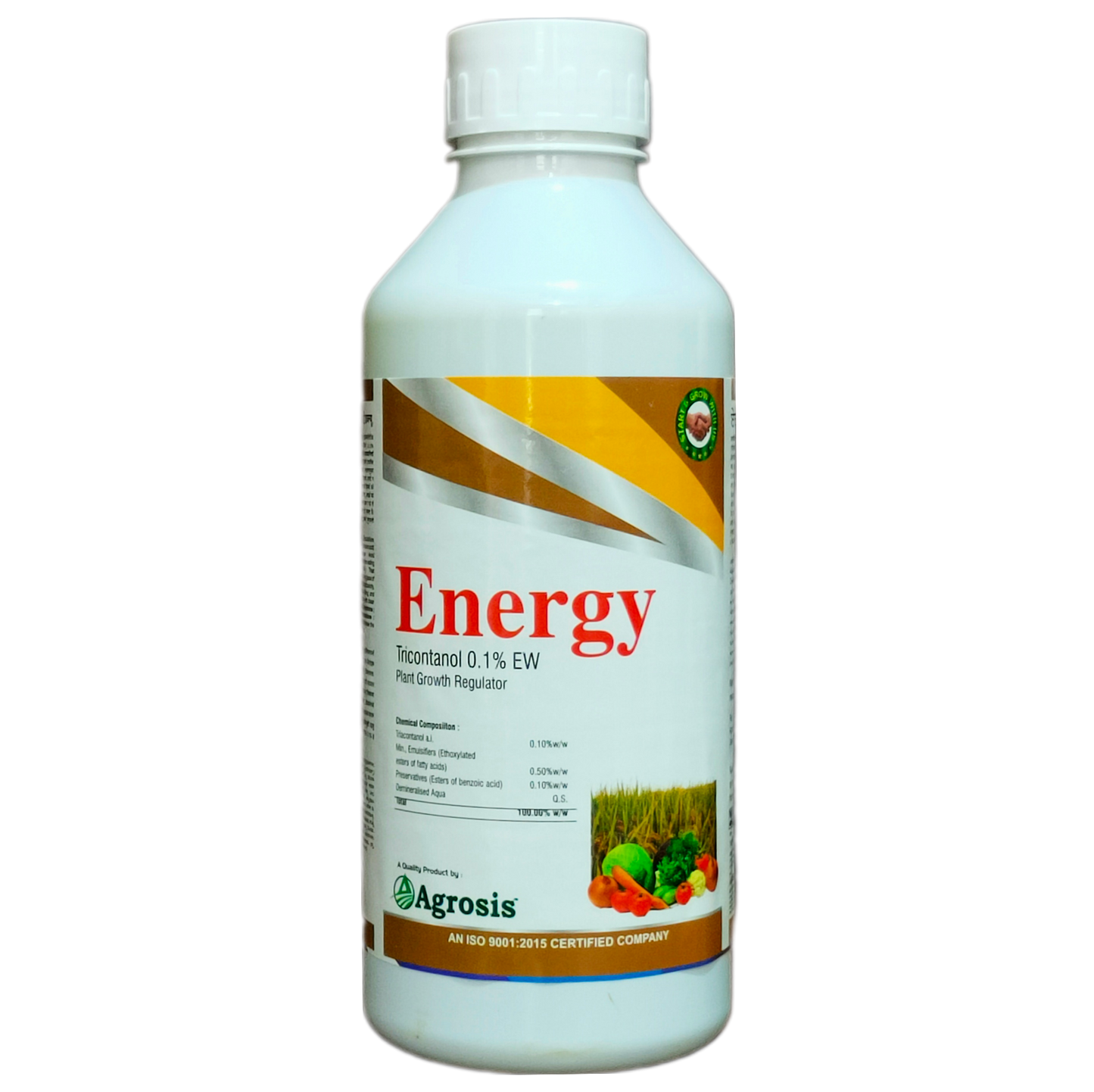 Best Sellers
Regular price

From ₹ 229.00

Sale price

From ₹ 229.00

Regular price

₹ 700.00

Unit price

per

Regular price

From ₹ 785.00

Sale price

From ₹ 785.00

Regular price

₹ 2,050.00

Unit price

per

Regular price

From ₹ 165.00

Sale price

From ₹ 165.00

Regular price

₹ 210.00

Unit price

per

Regular price

From ₹ 266.00

Sale price

From ₹ 266.00

Regular price

₹ 308.00

Unit price

per

Regular price

From ₹ 189.00

Sale price

From ₹ 189.00

Regular price

₹ 300.00

Unit price

per

Regular price

From ₹ 685.00

Sale price

From ₹ 685.00

Regular price

₹ 1,540.00

Unit price

per

Regular price

From ₹ 1,190.00

Sale price

From ₹ 1,190.00

Regular price

₹ 2,200.00

Unit price

per

Regular price

From ₹ 389.00

Sale price

From ₹ 389.00

Regular price

₹ 910.00

Unit price

per

Regular price

From ₹ 199.00

Sale price

From ₹ 199.00

Regular price

₹ 495.00

Unit price

per

Regular price

From ₹ 269.00

Sale price

From ₹ 269.00

Regular price

₹ 310.00

Unit price

per

Regular price

From ₹ 215.00

Sale price

From ₹ 215.00

Regular price

₹ 216.00

Unit price

per

Regular price

From ₹ 299.00

Sale price

From ₹ 299.00

Regular price

₹ 855.00

Unit price

per

Regular price

From ₹ 458.00

Sale price

From ₹ 458.00

Regular price

₹ 945.00

Unit price

per

Regular price

From ₹ 295.00

Sale price

From ₹ 295.00

Regular price

₹ 390.00

Unit price

per

Regular price

From ₹ 269.00

Sale price

From ₹ 269.00

Regular price

₹ 595.00

Unit price

per

Regular price

From ₹ 622.00

Sale price

From ₹ 622.00

Regular price

₹ 1,155.00

Unit price

per

Regular price

From ₹ 176.00

Sale price

From ₹ 176.00

Regular price

₹ 350.00

Unit price

per

Regular price

From ₹ 249.00

Sale price

From ₹ 249.00

Regular price

₹ 250.00

Unit price

per

Regular price

From ₹ 349.00

Sale price

From ₹ 349.00

Regular price

₹ 480.00

Unit price

per
Good
Not bad.not like miracular